Health and Safety Risk Assessments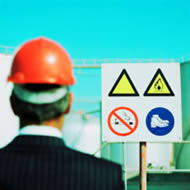 AMW undertake a range of Risk Assessments which are a required by Health and Safety Regulations and associated Codes of Practice.
Initially a General Risk Assessment should be carried out on the workplace or work activity, assessing the risk to health and safety and identifying suitable and sufficient measures to control those risks. This type of assessment will assist clients to meet the needs of the Management of Health and Safety at Work Regulations 1999, reg 3. General Health and Safety Risk Assessments may identify additional risks, which require specific types of assessments i.e. Control of Substances Hazardous to Health (COSHH), Manual Handling Operations, Working at Height, Water Hygiene (Legionella), Noise, etc.
AMW will help you fulfil your duty in a professional and practical manner with the minimum of disruption to your business activities.
'Protect the health and safety of your staff to enhance their performance and your profitability'